Spock's Beer was just one of those moments of happy inspiration. In the summer of 2001, brewmeister Dave "DaRube" Rubin had been a member of the forum at YtseJam.com for several months. YtseJam webmaster John "Koggie" Kotzian had expanded on his tradition of summer parties by inviting all the members of the forum to attend one weekend in July in Ann Arbor, MI. DaRube knew that he wanted to provide a lasting memory for his fellow forum members. With a vision of Dream Theater's most recent album in mind, DaRube contacted his fellow forum member, the graphics wizard Mike "Sebby5" Norse, and shared his plans. Sworn to silence, Sebby quickly turned out the label that DaRube had envisioned.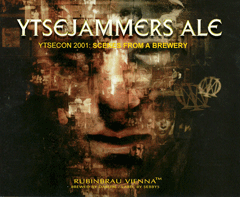 But DaRube was never one to stop once the creative juices got flowing. Knowing that his favorite group Spock's Beard was on tour, and would be appearing in DC a week after YtseCon, DaRube and Sebby came up with a second label, this time based on Spock's Beard's most recent album cover. Spock's Beer was born. Needless to say, the labels (and the beer) were a hit at YtseCon.

Getting the YtseCon attendees to keep the secret for one week longer, DaRube prepared for the Spock's Beard concert. Arriving early, DaRube brought a case of his beer to the venue, and sprung them on the band, cameras clicking.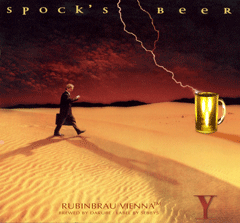 Spurred on by DaRube's relentless self promotion (and delusions of grandeur), the news spread fast. Bass player Dave Meros was kind enough to give Spock's Beer a positive mention in his tour notes. In the fledgeling Spock's Beard forum, Spock's Beer was to become the traditional greeting for new members.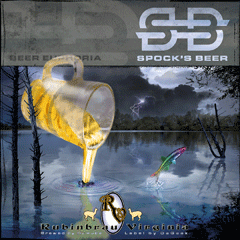 Of course, one good beer deserves another, so when Spock's Beard released their Feel Euphoria album. DaRube swung into action a second time. Enlisting the services of SB Forum friend Jamie "Geek Sublime" McGregor, a new label, and a new recipe were produced. This time, DaRube enlisted the services of the US Postal Services to help with the obligatory presentation to the band, and the moment was forever captured by Spock's Beard webmaster / composer John "Brainforest" Boegehold.
The Legend of Spock's Beer - Part 2 - The Recipe